Police Interceptor Import
Police Interceptor Import Service
Selection, purchase and import service of iconic Police Interceptors and Pursuit Vehicles.
Through USA Car Import, you can have a police car imported and fitted with stickers and decoration.
Police cars are sold in America after use, as they are known to be strong and reliable.
The lettering and light box and siren are removed from these cars.
In partnership with an expert on these police cars, we offer the service to have your own interceptors car imported and decorated
We all know these iconic cars from the movies and they also attract great attention in Europe. The cars are popular during events or movies. There are also several owners of these cars who have united in clubs and support charities and, for example, regularly give sick children the day of their lives.
Import of Police Interceptor. Selection and purchase service of the models.
Search order, purchase inspection, import service, type approval
Ford Crown Victoria: 2006 - 2014, 4.6 L V8, 2WD
Dodge Charger Pursuit (AWD) 3.6L Pentastar V6 engine, 300 hp or the 5.7 L V8 Hemie
Many of these parents have a hard life behind them so the trick is to pick out the best cars, such as cars that have had few hours idle with the engine running ( few idle hours).
Package Electronics ( possibly with installation)
Replica Lightbox Vector
Siren unit (Tones: Yelp, siren, Wail)
Siren speaker
Center Console (if needed)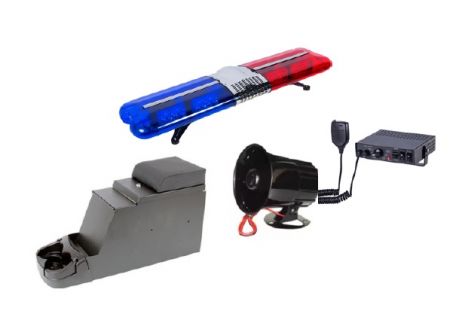 Sticker package ( decals). We supply the following 4 decal packages:
LAPD decals
NYPD decals
Chicago police
Sheriff decals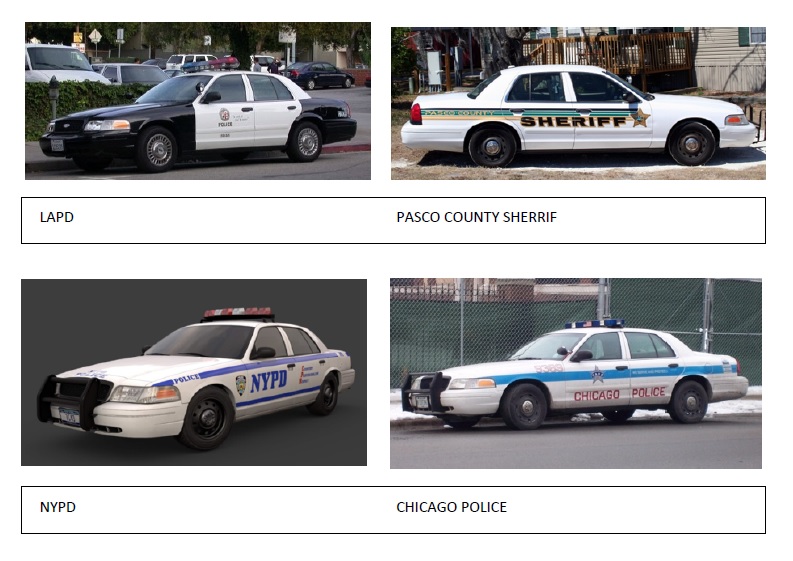 It is prohibited to drive on public roads with blue flashing lights and lamps. You must remove them while driving. USA Car Import is not responsible or liable for the materials and decals offered
The Original Ford Crown Victoria Police Interceptor. General Information:
When someone says "Cop car," a Crown Victoria Police Interceptor is usually the first thing that comes to mind through all the movies. This iconic model was in production from 1999 through 2013.
Although the Police Interceptor was not allowed to be sold directly to the public, these as retired cars can now be purchased by anyone so take your chance.
The P71 Crown Victoria Police Interceptor a modified version of Ford's Crown Victoria sedan, Ford's factory police cruiser, this is also called P71 Police Interceptor model and they are joined by the Mercury Gr. Marquis and Lincoln Town Car built on the rear-wheel-drive, body-on-frame Panther platform.
1.5 million were built, more than half of which went to police, fire and enforcement because of their relative simplicity, low cost and easy repair, and huge interior space.
What's different
Engine from the mustang V8 4.6L 225hp / torque 359nm
Civilian versions could go up to 177km/h and Police version 225km/h
Reinforced / heavier suspension
Bigger alternator and battery for all flashlight work
Larger brake discs from the Mustang GT
Allu drive shaft and different ratio for rear axle transmission
Central Trunk release system / gun case access
Large KM counter and an Idle hour meter
Bucketseats extra wide for cop torque
Dual exhaust
Kevlar lined front doors (v/a 2006) for serious bullet work
The real ones can be identified by code: P71 in the Chassis No.
Long 5.35, wide 1.96, wheelbase almost 3 meters
Different Police vehicles are:
Ford Crown Victoria Police Interceptor
Ford Crown Vic K9
Ford Crown Victoria
Ford Crown Vic Sherrif Edition
Ford Crown Vic P71
Ford Crown Vic CVPI
Ford Crown Vic P7B
Mercury Marauder
Mercury Grand Marquis
Lincoln Town Car