GMC Hummer EV 1000 HP and 100% electric
October 22nd 2020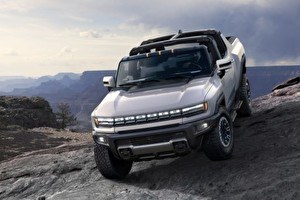 The news has been announced that the GMC Hummer EV will be released in 2022. It will be, as we know the Hummer, a large imposing vehicle with gigantic wheels. In this case 100% electric with 1000 hp with an estimated range of 650 km. The vehicle will be equipped with a fast charging system. 
The Hummer EV will be equipped with independent wheel suspension with adaptive shock absorbers, which will give any desired conformance.  It will be possible to set the car at a high position, up to six inches higher, i.e. almost 15 cm. 
The purchase price will be from $ 99.995. In the spring of 2023 a less luxurious version will be released with air suspension for a base price of $ 89.995. Eventually there will be a basic version estimated at $ 79,995. To get the car to Europe, there will be transportation costs as well as 10% import duty VAT, port charges and type approval. Not a cheap car, but very special.
Probably the demand for this car will be high, and a starting price will be higher, because of the supply-demand ratio.
If you would like to order this car in due time, please contact our best by e-mail. We will send you cars as soon as they are available.